Art is big business in New York. The city is home to some of the largest —and richest— cultural institutions in the world. If you like the visual arts, you can spend weeks viewing some of the world's most famous artworks as you walk around institutions that are just as famous. The Met, MoMA, the Whitney and the Guggenheim are among New York's top tourist attractions and welcome millions of visitors every year. That's a lot of people doing a lot of walking around galleries.
If that all seems too pedestrian for your tastes, New York also offers countless niche or 'alternative' arts spaces alongside one of the world's best collections of street art. At the other end of the financial scale (or political spectrum), the Chelsea Art District houses commercial galleries, each professing to have the best in contemporary art for sale— if you can afford it, and you probably can't. Ironically, these galleries are free to browse, whereas the major art museums charge at least $25 for a ticket. While the wonders of the interweb allow you to visit many of these collections online for free, seeing these works in the flesh is, arguably, priceless.
On my recent trip to New York, I took advantage of what is on offer to get a major art 'fix'. What follows are some of my experiences, photographs and opinions.
Metro Stop
The Metropolitan Museum of Art (The Met) is the largest and most visited art museum in the United States. Since the 1880s, it has been housed on the western edge of Central Park in a massive Beaux-Arts style building whose columned facade, complete with hanging banners and stone steps, faces out onto 5th Avenue at 82nd Street. The Met now has affiliate locations at the Met Cloisters (Fort Tryon Park, Upper Manhattan), where the medieval European collections live, and the Met Breuer (Madison Avenue on the Upper East Side), which is the home for its growing modern and contemporary art acquisitions. The principal works, however, are kept at Met Fifth Avenue.
The permanent collection spans 5000 years of human civilization and is curated into seventeen separate departments. The museum also hosts special exhibitions, often containing artworks on loan from around the world. On my visit, the flagship exhibition is Rodin at the Met. Nearly 50 marble, bronze plaster and terracotta works by Auguste Rodin are exhibited alongside paintings by some of Rodin's most admired contemporaries (and friends). On show are iconic sculptures such as The Thinker, The Hand of God and The Tempest. It's extraordinary to see so many of his works on show together.
The Met collection is so vast and there is so much to see that it almost devalues the art. You find yourself rushing past Picassos and Monets and the best works of lesser known artists because there's simply not enough time in one visit to see everything. The unmissable pieces, in my opinion, include Caravaggio's Denial of St. Peter, the reconstructed Temple of Dendur, various Van Gogh's including his Self-Portrait in a Straw Hat and American patriotic classic George Washington Crosses the Delaware by Emanuel Leutze.
Going Guggenheim
A few blocks north of The Met on Fifth Avenue is the Solomon R. Guggenheim Museum. It's more commonly referred to as The Guggenheim although there are Guggenheims in Bilbao and Venice with another under construction in Abu Dhabi. (I was at the Peggy Guggenheim Museum in Venice last October. Solomon was her uncle. They were both loaded!).
The New York Guggenheim's landmark building, designed by Frank Lloyd Wright, was opened in 1959 and is now included in the UNESCO World Heritage List. It houses a permanent collection of Impressionist, Post-Impressionist, early Modern and Contemporary art as well as regular exhibitions.
During my visit , the main exhibition was entitled Art and China after 1989: Theater of the World and explored the work of Chinese artists during the repressive period between 1989's Tienanmen Square massacres and the Beijing Olympics of 2008 (which heralded, to some extent, China's rehabilitation on the international stage). As China's democracy has taken a turn for the worse lately, this exhibition is timely and thought provoking.
The show's tagline, "Theater of the World", comes from an installation by artist Huang Yong Ping: a cage-like structure housing live reptiles and insects that "coexist in a natural cycle of life", a metaphor for globalization's symbiosis and incessant battle for survival. However, the installation didn't win its own battle for survival as controversy and protests from animal rights activists saw the museum remove the works. When I saw it, all that was presented was the empty structure, which was a bit of a less impactful.
The show is really well curated and works together as a whole. There is even a five-panel ink-on-paper map that charts the history of art and political movements covered in the exhibition. I love maps and calligraphy, so this piece really spoke to me. Among my other highlights was Mao Zedong: Red Grid No. 2 by Wang Guangyi, a commentary on how totalitarian regimes use imagery in propaganda, in this case the officially sanctioned portrait of Mao, with a helpful grid to ensure faithful reproduction.
The best known work was Ai Weiwei's Dropping of a Han Dynasty Urn. This was a performance piece from 1995, where the artist dropped an ancient urn and allowed it to smash onto the ground. The performance was captured in a series of three photographic still frames, which were on show alongside an urn with the Coca-Cola logo imprinted on it.
Just Whitney
Since 2014, The Whitney Museum of American Art lives in an impressive eight-story building on Gansevoort St, next to the starting point for west Manhattan's High Line. The museum is named for Gertrude Vanderbilt Whitney, who founded it in 1931. Whitney was a philanthropist, a member of the wealthy Vanderbilt family and a noted sculptor in her own right. As a patron of the arts, she sponsored the revolutionary Armory Show of 1913 but later devoted herself to the promotion of American art and to the advancement of women in art. (Fun fact: Gertrude was portrayed by Angela Lansbury in the 1970s mini-series about her niece, the wealthy heiress and fashion designer Gloria Vanderbilt. Gloria is the mother of CNN news anchor Anderson Cooper.)
Whitney recognised that her sophisticated but snobbish friends made a fuss over new art from Europe but ignored new American art. For example, she noticed that the recently opened MoMA had a distinctly European bias. As an American artist she took issue with this and decided to try to alter the balance of attention. She initially started a studio, then an artist's club and finally the gallery that was to become The Whitney. Evolving out of her personal art collection, which The Met snobbishly turned down in 1929, the museum's permanent collection now contains over 23,000 works, created by more than 3,000 American artists during the twentieth and twenty-first centuries.
This was my first visit so I decided to take a guided tour, which was really informative; there were many artists that I had never heard of, including Paul Cadmus, whose paintings have more than hint of homoerotica. Of course there are also iconic pieces like Edward Hopper's Early Sunday Morning, Jasper Johns Three Flags, Thomas Hart Benton's Poker Night and Georgia O'Keeffe's Music, Pink and Blue. Personal highlights were A Woman in the Sun by Edward Hopper (which turns out to be a painting of the artist's 78 year old wife) and Baptism in Kansas by John Stueart Curry (which is a great study in Depression-era mid-western America).
On my visit there were several exhibitions in progress. An Incomplete History of Protest looked at how artists from the 1940s to the present have "confronted the political and social issues of their day". It includes activism around issues of feminism, equality, healthcare as well as works of social commentary.
In with the New
The New Museum is 40 years old. That's not so new any more but the art world is weird. They consider art made in 1870 as 'Modern'. The New Museum wouldn't let so-called modern art into the building because they focus on contemporary art, presenting new art and new ideas in a really interesting building on Bowery/Prince Street.
The lead show at the New Museum was Trigger: Gender as a Tool and a Weapon, which "investigates gender's place in contemporary art and culture at a moment of political upheaval and renewed culture wars. The exhibition features an intergenerational group of artists who explore gender beyond the binary to usher in more fluid and inclusive expressions of identity."
Exhibits include legendary trans-activist Marsha P. Johnson reading a poem in Reina Gossett and Sasha Wortzel's video Lost in the Music. Justin Vivian Bond has an installation, which explores her childhood obsession with 1970s/1980s Estee Lauder model Karen Graham, whom V painted in lieu of painting makeup on her own face.
There are over 150 art works by more than forty artists but some have only a tenuous connection to the stated subject matter and raise more questions than they answer. The overall feeling is messy, inconclusive and, frankly, quite confusing. But then again, that's the point.
Commercial Break
The traditional home for commercial art galleries has been in Chelsea, specifically on 22nd, 24th and 25th Streets between 10th and 11th Avenues. Over the years, the area inhabited by galleries has grown to cover most of Chelsea which has pushed up rents and lately galleries have been moving out of the area. On our walk around Chelsea, the range of works on show is impressive. Some people clearly have more money than taste because some of it is terrible! Thankfully, there is a lot of exciting work too.
Hayv Kahraman at the Jack Shainman Gallery. Kahraman is a Kurdish Iraqi, who migrated to Sweden and then to the United States. Her work keeps traces of traditional Persian forms but speak to more contemporary issues of identity, femininity and belonging. There's a hint of Frida in there too.
Stephen Wilkes is a photographer and his Day to Night project involves taking multiple images of a location and blending them together in Photoshop to create a scene that transitions from day to night. It's a bit fake news for me but the skill is impressive.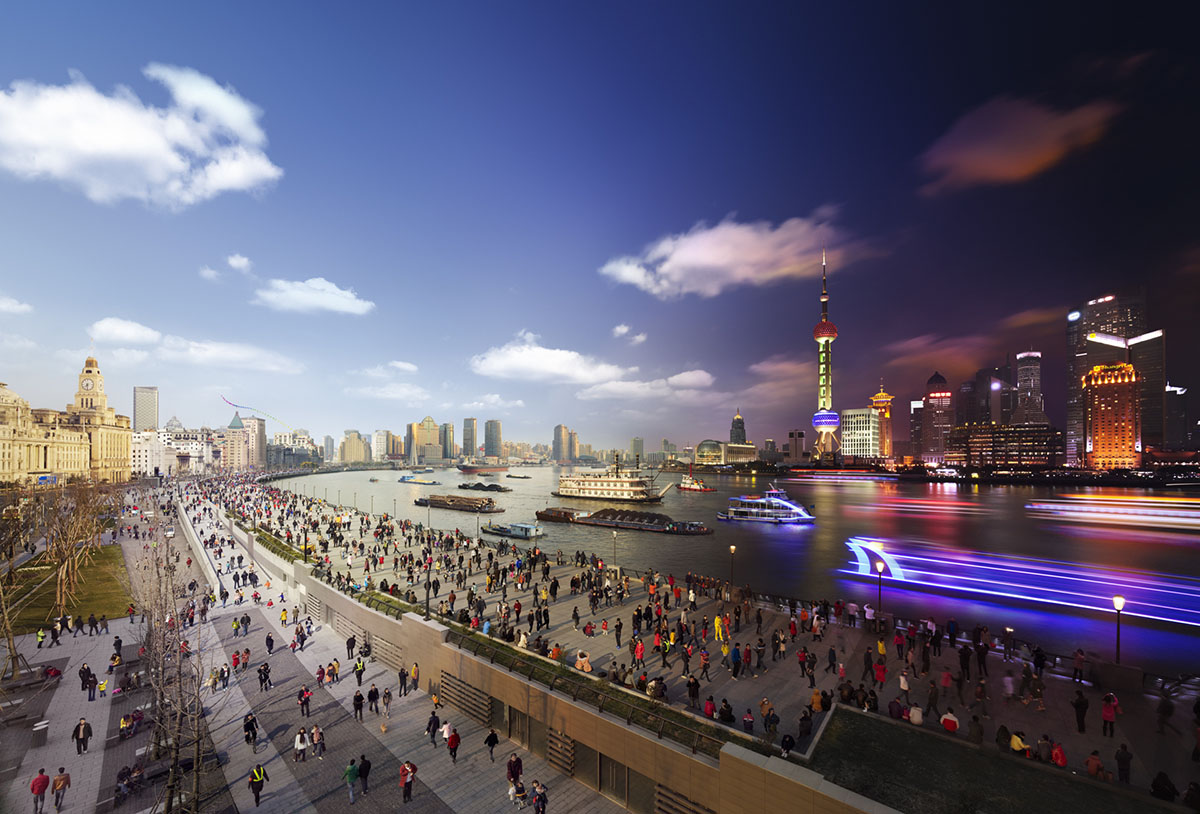 We stumbled upon Noah's Ark inspires Van Cleef & Arpels and I'm still not sure what it was. Blurb in the window revealed that luxury brand Van Cleef & Arpels had commissioned Robert Wilson, one of the world's leading theatre and visual artists, to create an art 'experience' around their new jewellery collection. It was quite the build up so curiosity pulled us inside. In the end, it felt like a duty free shop at an airport and didn't excite me at all.
Safe House by Nina Chanel Abney at Mary Boone Gallery is a comment on how black lives are represented in American media. The style is cartoonish and cheeky.
In the commercial galleries, the works are obviously for sale but there is no hard sell. It's not like walking in to an exclusive boutique where sales assistants descend on you like a plague of locusts. The galleries are building up reputations of their clients are much asthe prices so the more eyes that get on the artworks the better. 'Just looking' is fine. That said, if you prefer your art  to come without a price-tag, there's a lot of that in NYC too.
Free Time
Since the arrival of the Bohemians in the 19th century, New York has attracted the penniless artist. But if you find yourself penniless in the Big Apple, you can still view some world class art for free as New York has one of the world's best collections of street art.
There are some key locations where you can see the best in street art, such as along the High Line and a wall at the corner of Houston and Bowery, where Keith Haring painted his first mural. Since 2008, the owners of that wall have invited artists including Shepard Fairey, Retna, Kenny Scharf, Nakagawa, Os Gemeos, and many others to create work.
Street art is vibrant, fresh and colourful but, by its very nature, it doesn't hang around too long. Also, unless you recognise tags or styles, it can be difficult to discover which artists are responsible for which works. In many cases, the site  streetmuseumofart.org takes over the role of museum curator providing artist backgrounds and work descriptions online. It extends its guerilla curating for a radical artform beyond NYC to other city locations including Montreal and London.
Kobra's large-scale mural offers a prismatic recreation of the iconic photo taken in 1945 by American photojournalist Alfred Eisenstaedt. A kiss caught between the two strangers in Times Square on V-J Day —marking the end of the last World War— is now filled with the vibrant color and energy that has become signature to Kobra's work. Below, the Brazilian muralist depicts the black-and-white scenes of old NYC photos intersected by kaleidoscope-like rays of color — celebrating the history of this city's past and its relationship to our present
www.streetmuseumofart.org